Senate's audit could have become a tool for election integrity. But experts say it was designed only to sow doubts
The Arizona Senate had a chance to do something extraordinary when it set out to audit Maricopa County's 2020 election results.
Election gurus, data crunchers, analysts and hackers long have sought a tool to quickly identify problems in voting systems: in other words, an unassailable audit for strengthening election integrity.
After spending millions of dollars and months on a hand recount, the Senate created a partisan apparatus that experts say used questionable methods and failed to identify legitimate problems.
Instead of answering questions, the Senate's election review only sowed doubts — just as it was designed to do, they say.
"This started with malice aforethought," said Larry Moore, the founder of  Boston-based Clear Ballot Group. "In the service of malicious intent, they wrapped themselves in this concept of election integrity and perverted it."
So, is any audit good? Yes, he said, it could be.
Moore said a real and careful audit in Arizona could have elevated the election process across the country to give counties and states tools to pinpoint issues and immediately and economically address them.
"An audit done well, and done with agreement from both parties, is a good thing," Moore said, adding that the time and resources poured into Arizona could have been used to "bring a new class" of audit examination. 
That's not what the Arizona Senate did when it raised questions about the legitimacy of  President Joe Biden's victory over former President Donald Trump.  
It hired companies with no experience in election audits. The audit was conducted by people who espoused election conspiracy theories.
The Senate's main audit contractor, Cyber Ninjas, was headed by an avid Trump supporter. The audit was funded primarily by "Stop the Steal" advocates determined to overturn the election and restore Trump to the White House.
The Cyber Ninjas' hand count confirmed Biden beat Trump in Maricopa County. The months-long hand count of 2.1 million ballots closely matched the county's official count in November. 
But when results were announced in a nearly four-hour hearing Friday, Senate President Karen Fann made the count secondary to a host of "anomalies" and concerns that continued to raise doubts about the election process. It left lawmakers, partisan contractors and Trump supporters all calling for more audits.
Senate audit liaison and former Republican Secretary of State Ken Bennett on Friday cited election laws and procedures that he said were not followed to the letter and suggested "constructive improvements." 
Who was left out of any discussion? Election officials and analysts who spend their lives examining voting systems. 
Clear Ballot is one of the largest vote-tabulation companies in the nation. It is in the business of auditing election results. Fann bypassed the company and other companies with election audit experience that offered to work on the audit.
Moore said the Cyber Ninjas avoided providing data that could answer the very questions raised by the Senate.
He said the report is laid out "in an incendiary way ... that created a lot more heat than light."
He said the Senate has intentionally withheld box and ballot counts that independent analysts could use to test results. 
"This plays to people with a very different agenda," Moore said after Friday's hearing. "If there is ill intent behind it, then it (an audit) is a terrible thing." 
ARIZONA AUDIT UPDATES: Snapshots from an eventful day
Starting with wrong intentions?
The Senate's contractors failed to produce a useful report because they started off with the wrong intentions, said Jennifer Morrell, a partner at The Elections Group, a national elections consulting group.
Morrell was on hand at the beginning of the hand count at Veterans Memorial Coliseum in Phoenix as an observer for the Arizona Secretary of State's Office. She noted the contractors' changing methods and sloppy procedures.
If the contractors had started with the intention of improving the county's elections, they would have asked for documentation on the processes the county uses to conduct its elections, Morrell said.
Morrell said the contractors should have started by learning and understanding each step for counting a vote — from the time the county sends the ballot to the time the voter casts the ballot to how the county tracks those votes.
Morrell said if the contractors had experience in elections work, they would have known to start there.
"Process improvements happen when I say to you, 'Here is your current process; here's specifically how you would fix it,'" she said. "They don't even understand what their processes are. They don't even show … where is the flaw."
The contractors' lack of understanding of the county's experience only allowed them to raise questions, not to come up with conclusions, she said.
"If that is really what they were going for, they really missed the mark," she said.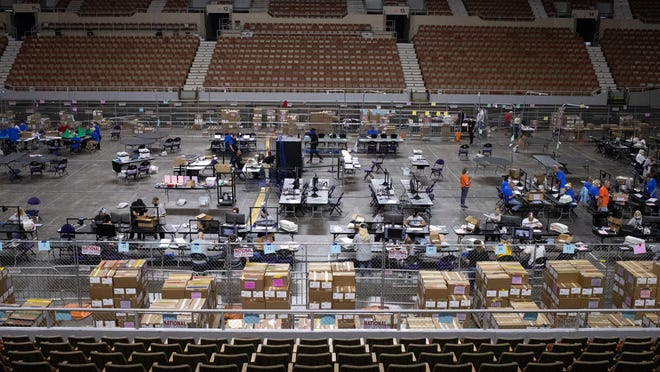 Subpoenas issued by the Senate for the county's ballots and election materials did not ask for procedural documents.
And Cyber Ninjas raised critical questions based on a lack of understanding of the data — questions that were quickly debunked by county elections officials.
In May, audit contractors accused county officials of deleting computer files that it had in its possession but failed to correctly download.
Cyber Ninjas' CEO, Doug Logan, made claims in Friday's audit report that county officials said were based on false assumptions about how the county tracks and reconciles ballots and voters in its files.
Another contractor hired by the Senate was conspiracy theorist and anti-vaccine activist Dr. Shiva Ayyadurai, or "Dr. Shiva" as he is known to far-right adherents. 
Shiva opened Friday's hearing with a series of claims about missing signatures on mail-in ballots. But Shiva said he did not have access to documents showing how the county processes early voting envelopes, for example.
John Brakey, a Tucson election-transparency activist who served as a consultant for the audit team, criticized Shiva's presentation as foolish and distracting. 
"He was awful," Brakey said, adding that Shiva was part of a team assembled by Trump lawyer Rudy Giuliani who met with Arizona Republicans on Nov. 30 in Phoenix. 
Brakey said the audit could have become an "Arizona Miracle" and created a new system of election checks and balances.
Isolating data right now is a bit like finding a needle in a haystack, he said, where you often need to search every ballot instead of a single batch or box.
"This could've taken the haystack and turned it into a ballot library," he said.
It became something else.
"It is a hell of a grift," Brakey said. 
Surprise over what Cyber Ninjas didn't find
Alex Halderman, a University of Michigan computer science and engineering professor who specializes in election security, said he was surprised that the contractors did not find more problems with the county's election management system and voting machines.
Halderman is often paid to identify vulnerabilities in voting systems, so he knows that they exist.
"It's incredibly underwhelming what they came up with," he said. "There are real election issues. But that's not addressed with the level of sophistication they were applying in this audit."
Halderman said the contractors appear to have started with the intention of discovering fraudulent activity in the 2020 election, not identifying vulnerabilities in the system. If they had started out intending to find vulnerabilities, they would have approached their examination much differently, he said.
"If you're looking for vulnerabilities, you take apart the software, and see how it works, and see how someone could bypass it," he said. "Which is apparently not what they did."
Halderman said most of Friday's presentation on the voting machines was spent asking questions about aspects of the voting system the contractors didn't understand, not coming up with conclusions for how to improve the system.
And the types of questions they raised are ones often easily answered by elections administrators, he said.
It seems the contractors' main goal was to raise questions "for people to hang onto, for people to remain skeptical," Halderman said.
"I am amazed that with millions of dollars and months to complete this audit, the bottom line is simply that the election system counted the ballots correctly. There may have been some minor configuration issues … but they are known issues, and at the end of the day, they didn't affect the election results."
Contractors' report shows lack of expertise
Benny White, a prominent Pima County elections consultant, went through every line of the Cyber Ninjas' findings after receiving a leaked copy of the report. He said the findings proved the company didn't understand Arizona voting systems or Arizona law.
But that doesn't matter, he said, because it was never intended to be a honest review. Instead, it was part of an effort to undermine the credibility of elections, and not just in Arizona.
"You can't take this seriously," White said. "And I hope no one else does, either ... We have to keep this from happening in other states."
White, along with Moore and retired Clear Ballot executive Tim Halvorsen, are part of a three-man team called the Audit Guys. They twice offered to test the audit findings by using a method they have created to analyze "cast-vote" data. The Senate rejected them. 
White said the Cyber Ninjas' report failed to take into account the most basic issues, such as movements of voters and changes of address; how precinct registers work; voters using incomplete names; and voter registration numbers.
"They don't understand early voting reports from the county," he said. "They don't know what happens when voters send ballots in."
Those issues are used in the report to raise concerns that experts say don't really exist. 
"It was irresponsible for the Arizona Senate to put this out to the public before it was fully vetted," White said. 
'Not particularly interested' in answers
County Recorder Stephen Richer said he was curious if the senators who supported the audit believed it achieved anything.
"I thought it set out to answer questions, but it seemed like it just wanted to find new questions to ask — the vast majority of which there are answers to, but they didn't seem particularly interested in."
The county refused to answer many questions from the contractors. But Richer said  many elections experts across the country could have helped them if they had asked.
Richer, who is a Republican, has long said he wants to ensure the county's voter registration records are accurate, and many of the contractors' recommendations were aimed at that.
Some encouraged the Arizona Legislature to require regular checks of the records, and others encouraged the use of certain databases to check voter information.
Asked whether the contractors' recommendations were helpful, Richer said he would  review any idea for how to improve the system.
"I wish it was done in a different context, in which people don't say there should be decertification of the election, or displaying pictures of nooses," Richer said, referring to comments from politicians and their followers after the results were presented Friday.
He said his plan to improve the voter rolls will involve all political parties, all levels of government, and election experts.
"I want it to be expert-driven," he said. "Audits are a healthy part of the elections process. But the people they involve shouldn't be motivated by a partisan spirit."
Katie Hobbs: 'Dangerous noise'
Arizona Secretary of State Katie Hobbs said the audit didn't intend to repair problems in the electoral process — or even make it easier for the public to understand.
"This whole entire exercise was intentionally done to undermine the democratic process," she said about the Cyber Ninjas' audit report. "Our state leaders let them in to do this."
Hobbs, a Democrat who is running for Arizona governor in 2022, said she was incensed by claims Fann made after the presentation that election laws were violated.
"The Senate president said laws were broken. That is absolute gaslighting," Hobbs said. "There is no basis for that. That was a blatant lie."
Hobbs said election audits can benefit voters in concrete ways. But the Senate's election review accomplished none of that, she said, calling it a colossal waste of time and taxpayer money.
"This is all noise," she said. "Dangerous noise, but noise."
Former Maricopa County Recorder Adrian Fontes agreed. He said Cyber Ninjas and the Senate's contractors got in this to push "The Big Lie" that the election was rigged against Trump.
"If they had understood the elections systems in the first place, it really could have shown Maricopa County has the best system in the country," he said. "But they were uninterested in that."
Fontes, a Democrat who is running for Arizona secretary of state, said Maricopa County's election system was designed to be audited. And there's nothing partisan about it, he said.
He outlined four key methods the county has to audit ballots and resolve disputes. 
Paper ballots are scanned and images are made of each one. These are stored in ballot image files.
If there is a question about a ballot, the digital image is used to review it. If the problem can't be resolved, the ballot is recorded in an adjudication log. The image is compared with the paper ballot.
There is also a tabulation log that tracks each ballot style used in precincts throughout the county. 
Each method is used to ensure the voter's intended vote is recorded correctly, Fontes said.
He said the Cyber Ninjas weren't interested in the checks and balances of the county's election system
"What we have here is an incurious and willfully ignorant analysis of a good system," he said, adding the Senate "legitimized a ridiculous (expletive) third-party audit."
Fontes said this wasn't a real audit. It was supposed to achieve discord, he said.
 "There's always a chance for good, unless it turns into really, really bad stuff. That's what happened here."
Reach the reporter at robert.anglen@arizonarepublic.com or 602-444-8694. Follow him on Twitter @robertanglen.
Reach the reporter at jen.fifield@azcentral.com or at 602-444-8763. Follow her on Twitter @JenAFifield.