Arizona's ballot review fizzled, but other states want to follow suit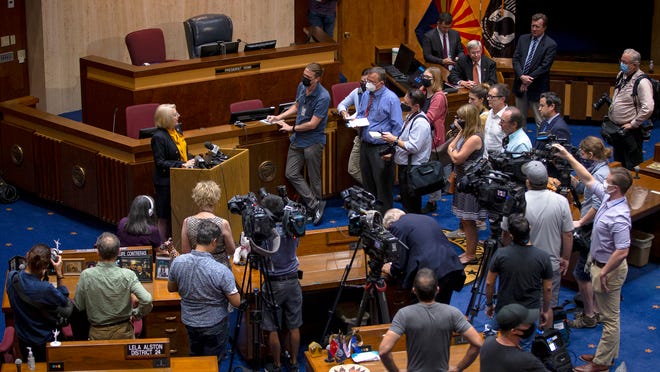 On the day news outlets reported that Arizona's ballot review confirmed the official result that President Joe Biden won over former President Donald Trump, Texas officials announced they were starting a review of their own in four counties.
Efforts to scrutinize the 2020 election in Pennsylvania and Wisconsin are underway. Michigan Republicans also have been under pressure to follow Arizona's lead.
Arizona's long-running ballot review ended Friday in an anticlimactic fashion, with hours of claims that Maricopa County, its population center, could have better election safeguards.   
That dry tech talk did little to erase what might have seemed a sobering conclusion: The county correctly found that Biden won by about 45,000 votes, helping him post a historic win in Arizona.
Instead, it seemed an obscure footnote to a narrative Trump pushed insistently in a series of statements throughout Friday. He still views Arizona as the site of "massive fraud," called for a criminal investigation and for the state to decertify its election results.
"The Audit was a big win for democracy and a big win for us," Trump wrote. "Shows how corrupt the Election was. Arizona State Senate hearing going on now and the information about what took place is terrible — a bigger Scam even than anticipated!"
Audit results:What Arizona's political leaders had to say about audit report
Little, it seems, will hold back some Republicans from following Arizona's lead on the ballot review elsewhere.
Even before the Arizona findings were released, national organizations trashed it and hoped lawmakers in other states would steer clear of what Arizona had done.
David Becker, executive director of the Center for Election Innovation and Research, said the ballot review used "a lot of highly questionable methodology … to suggest that they couldn't possibly determine who actually won the election."
"Of course, we suspect that the purpose of this whole endeavor all along was to sow doubt in the outcome of our elections, to suggest that elections that are not won by President Trump, for instance, can't possibly be determined. And we see that being exported to places like Pennsylvania and Wisconsin."
The center Becker founded and heads is heavily funded by Mark Zuckerberg, the CEO of Facebook.
In Pennsylvania, a Republican-controlled state Senate committee issued subpoenas for 17 types of election records, some of them containing sensitive information, such as partial Social Security numbers. Election officials there have said their elections were audited and confirmed Biden's narrow win. Trump won the state in 2016, marking the first time a Republican carried Pennsylvania since 1988.
In Wisconsin, several probes, most prominently one led by the state Assembly speaker, are examining Biden's narrow win there. Biden won back a state that Democrats carried from 1984 until Trump's thin victory in 2016.
In Texas — a state Trump won by nearly 6 percentage points — the secretary of state announced "a full and comprehensive forensic audit" in Dallas, Harris, Tarrant and Collin counties.
Trump won Collin County, while Biden won the others. Harris County includes Houston; the other three are in the Dallas-Fort Worth area.
Trump has called the chairman of the Michigan GOP to urge an Arizona-style audit, a party leader there said, according to the Detroit News.
The chair indicated pushing for an audit there could hinge on the outcome of Arizona's review.
Wisconsin state Rep. Janel Brandtjen, a Republican who heads the Assembly's election committee, called for an audit this summer using rhetoric similar to that used in Arizona.
"The people of Wisconsin deserve to know the truth about the 2020 election," she said. "Voters have made it clear that they want a thorough, cyber-forensic examination of tabulators, ballot marking devices and other election equipment, which I will be helping facilitate."
Her probe ran into resistance on technical grounds, but other efforts, including the speaker's investigation, have moved forward in that state.
The Philadelphia Inquirer noted that the man heading the election review in Pennsylvania remained determined to continue after seeing the outcome in Arizona.
According to the newspaper, state Sen. Cris Dush, a Republican who traveled to Phoenix in June to inspect the ballot review here, said: "Protecting the integrity of Pennsylvanians' election system is not only critical to the overall function of our country, but also secures Pennsylvania's unique role as a state within the fabric of our nation by allowing Pennsylvanians to express our state's culture, demographic, and geographic diversity through our voting process. It is for these reasons, that Pennsylvania and other states must have certainty in the oversight and integrity of their state's voting system."
On a media call organized by the nonpartisan policy group States United Democracy Center, election experts and lawyers, cast the review in Arizona as the "best attempt" by Trump and his allies to prosecute their theory of the "Big Lie."
And it failed from start to finish, they said.
Trey Grayson, a Republican and former Kentucky secretary of state who has been critical of the ballot review in Arizona, said the review findings should give GOP officials in other states pause. 
"My hope is that these other states, Wisconsin, Michigan, Pennsylvania, and now Texas … that lawmakers and other officials pushing this will say, 'Wait a minute, maybe we shouldn't be doing this. It's bad for government, it's bad for our politics and it's bad for the Republican Party," Grayson said.
Some Republicans agree. Rohn Bishop, the Republican Party chairman in Fond du Lac County, Wis., has implored lawmakers in his state to look ahead, not back.
"I was told by a (Wisconsin) legislator that the AZ audit was going to be a bombshell, and that I was in the minority by not having the Republican Party of Fond du Lac County sign up for the Full Physical and Forensic Cyber Audit," he wrote in a tweet Friday.
"Hopefully, my fellow Repubs stop with this nonsense, and begin to focus on 2022 elections. Right now GOP effort is hacking off Republican Clerks, and alienating soft GOP voters who think we're nuts and wasting their tax dollars."
Norm Eisen, chair of the States United Democracy Center who served as special counsel and special assistant to former President Barack Obama for ethics and government reform, said Arizona's exercise may intensify opposition to efforts in other states. 
Meanwhile, the U.S. House Oversight and Reform Committee, which is the House's main investigatory panel, is doing its own investigation into the Arizona audit.
"Of course, this does tie ... back to the Big Lie, to Jan. 6, the run-up to Jan. 6, the dangers," Eisen said. "It gives impetus to the House investigation. And I think you're going to see that courts, policymakers, and others are going to be fed up with this."
Eisen said Arizona has demonstrated that those who oppose the "unlawful nature" of such efforts should not wait to present cases to courts earlier rather than later. 
"I think you're going to see courts and others, and Congress only redouble efforts because of the ... catastrophic failure of the Arizona sham audit."
Benjamin Ginsberg, a lawyer to the George W. Bush and Mitt Romney presidential campaigns, rattled off the many times Trump's allies have failed to establish widespread fraud. Trump's attorney general, William Barr, couldn't find it, and the state attorneys general who sought to set aside some state election results couldn't find fraud in their own states, he said.
"Trump forces are desperate for a win, desperate to be able to prove this," Ginsberg said Thursday. "If they can't prove it in Arizona with the way these proceedings are being conducted, then they're really not going to be able to prove it anywhere."
Ginsberg noted that election procedures vary from state to state and it means there are bound to be small and inconsequential imperfections that go with that.
"We as a country made a policy decision to decentralize our (election) system. That means the system is not perfect," he said. "That also means that after every election there should be efforts to improve the way ballots are cast and counted so that the general idea of improving laws is really a good one and should be embraced.
"But what's troubling about Wisconsin and Pennsylvania is the pedigree of the proceedings. They are hard partisan efforts by one side and those never turn out right."
Liz Howard, senior counsel of the Brennan Center for Justice at New York University School of Law, said the financial cost of Arizona's review alone should prompt other states to think twice about pursuing anything similar.  
A/C units, rent-a-cops and legal fees:Taxpayers pick up $425,000 in audit costs, with more coming
"What we've seen happen in Arizona is an effort that has cost taxpayers millions of dollars, that has spurred on death threats against trusted state and local election officials," she said.
"To the extent that they're trying to duplicate what has happened in Arizona in other states ... the Arizona Legislature is certainly acting like they have a blank check. I don't know how Texas is planning to pay for this endeavor, which will undoubtedly be very expensive."
Reach the reporter Ronald J. Hansen at ronald.hansen@arizonarepublic.com or 602-444-4493. Follow him on Twitter @ronaldjhansen.
Subscribe to our free political podcast, The Gaggle.